For over 50 years, Precept has helped millions of people around the world know God deeply through knowing His Word. We believe the Precept Bible Study Method is key in discovering the truth for yourself in Scripture.
This method centers around three components, which often overlap in practice: observation, interpretation, and application.
In this blog post, we're going to focus on Application—the indispensable response of obedience to reading and studying God's Word.
What is Application?
Application answers the questions:
How does the meaning of this passage apply to me?
What truths am I to embrace, believe, or order my life by?
What changes should I make in my belief, in my life?
As Jesus spoke to crowds of people, He taught, "Therefore everyone who hears these words of Mine and acts on them, may be compared to a wise man who built his house on the rock. And the rain fell, and the floods came, and the winds blew and slammed against that house; and yet it did not fall, for it had been founded on the rock" (Matthew 7:24-25).
When we Observe and Interpret God's Word, we are "hearing" it. Then, when we Apply Scripture, we are "acting on" what we have heard—and the glorious end result is transformation, a solid character built upon an ever-deepening relationship with God in Christ.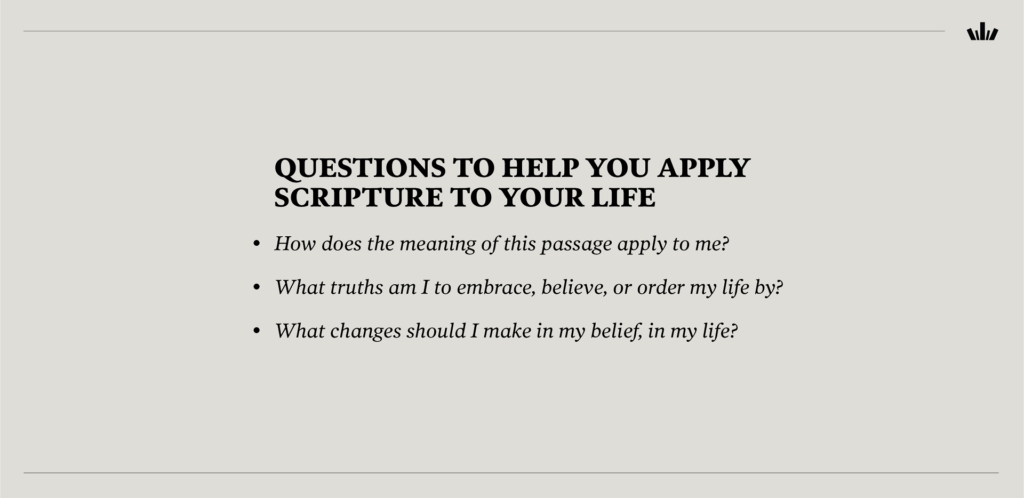 How do you apply Scripture to your life?
In 2 Timothy 3:16–17, Paul gives us the key to application.
Paul tells us what Scripture is for: teaching, reproof, correction, and training in righteousness. For God's Word to benefit us, we must apply it! Let's look at each area of application on Paul's list.
1. Teaching
Teaching (doctrine) is what God's Word says on any particular subject. To apply the truth of God's Word, you can follow three steps:
Step 1: Find out what Scripture says on a particular subject through careful observation and accurate interpretation.
Step 2: Acknowledge your obligation to accept and live by that truth.
Step 3: When you have adjusted any false concepts or teaching you may have believed and have embraced the truth revealed in God's Word, then you have applied what you have learned.
2. Reproof
"Reproof is finding out where you have thought wrongly and where you haven't been doing what God says is right."1 When you acknowledge and agree with God about where you have been wrong in thought or behavior, you have applied the reproof of Scripture. This can be difficult, but it has profound effects—applying reproof sets us free from unbelief and from sin!
3. Correction
Often the most difficult area of application, correction involves taking the necessary steps to align our attitudes and actions with God and His Word. Praise God—He has given us His Spirit who helps us as we strive to obey God's will and transforms us into the image of His Son, day by day, from glory to glory (2 Corinthians 3:18)!
4. Training in righteousness
The Bible is our guide for living a life that is pleasing to God. Our co-founder Kay Arthur has said, "As you get into the Word of God and get to know God, you see how God intends for you to live. To live the way God says to live is to live righteously."2 To truly apply God's Word, we must live as it commands.
Why should you apply Scripture to your life?
In 2 Timothy 3:17, Paul tells us why Scripture—when faithfully applied—teaches us, reproves us, corrects us, and trains us in righteousness: so that you "may be adequate, equipped for every good work." The word "adequate" can be translated "complete" or "fully furnished."
The purpose of Bible study is not merely to know about God's Word, nor is it to become more like God for our own sake. The ultimate purpose of Bible study is to be transformed through a deep and abiding relationship with Jesus Christ that spurs us to love Him and others more.
Our God loves us deeply and has wonderful plans for us—plans that include using us as His vessels carrying the good news about life found in Jesus to the world. As we apply Scripture to our lives through the Holy Spirit's guidance, we will be transformed, abounding in good works that shine the light of Christ to the world!
Getting Started
At Precept, we want to help you in the lifelong and life-changing process of discovering truth in God's Word for yourself. Here are three ways to get started:
Precept workshops will help you get more out of your Bible study—from Essentials of the Precept Bible Study Method to How to Study the Psalms, there's an online workshop coming up that's perfect for you. Register today!
Precept Bible study groups meet virtually and in person all over the world. Find a group, and start learning how to discover truth for yourself, but not by yourself, today!
Need help choosing a Bible study that will help you study inductively? With more than 250 unique titles covering every book of the Bible—from book studies to topical studies—Precept has a study that meets you where you are!
How to Study Your Bible by Kay Arthur, David Arthur, and Pete De Lacy (Harvest House Publishers, 2010).
Ibid.