For some time, insecurity has been increasing in Taraba, a state in northern Nigeria. Because of the threat of kidnapping, terrorist attacks, and violence, there has been no Precept presence in the country. Until recently.
Despite the dangerous conditions, Pastor Yemi—Precept's National Director in Nigeria—was determined to share God's Word in Taraba. And the outcome was above and beyond what he could have expected or imagined (Ephesians 3:20).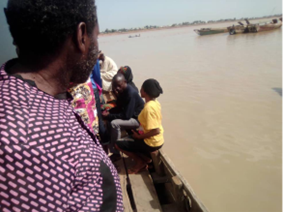 After two full days of travel, Pastor Yemi finally arrived in Taraba and met with his only contact in the area. During their meeting, Pastor Yemi shared Precept's mission, vision, and resources. His contact was so excited he arranged another meeting that same day between Pastor Yemi and the chairman of a large Christian fellowship in the region.
But God still wasn't done—the chairman was so "blown away" by his meeting with Pastor Yemi that he organized a gathering of pastors to learn more about Precept that same evening. Over 70 pastors attended!
At this gathering, Pastor Yemi introduced the men to Precept using our 40-minute study Rising to the Call of Leadership. Five pastors solidified plans then and there to start using the study at their churches. Meanwhile, several other pastors began planning a two-day conference to teach others how to know God deeply through knowing His Word.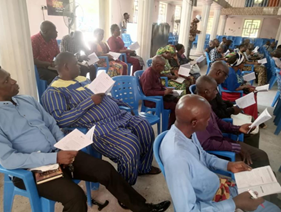 Praise God—Pastor Yemi went to Taraba by faith, and God met him with abundant grace and favor, swinging wide the doors for ministry. And none of this would be possible without the generous support of Precept partners.
In the coming weeks, hundreds in Taraba will receive the tools, support, and community they need to know God deeply and live differently—all because of one day of meetings! Imagine what God can continue to accomplish when Pastor Yemi and the Precept team return in a few months.
When you give to Precept, God's Word is shared, and lives change. Partner with Precept today!