We all have those seasons—
—the months (or years) where life seems to be going at max speed, and you don't have time to do much except breathe every once and a while. You can easily start feeling burned out, and you realize what you're missing the most: Spending time with God.
If you've ever felt this way, there's a good chance that people in your study group—or neighborhood—have too. But we have some good news: Even in busy seasons, you can still have the time with God's Word you crave in a more condensed format through the In & Out series. Here are seven reasons In & Out study could be a perfect fit for you and your group:
1. Beginner accessible
Jumping into Bible study for the first time (or after an extended break) can feel intimidating—and overwhelming. Where do you even start?
The structure and exercises of In & Out studies are designed to be accessible for Bible students at all levels. Each study includes walkthroughs of the Precept Method (observe, interpret, apply), and the guided format helps students methodically work through Scripture.
Whether your group includes first-timers looking for a place to get started, or veteran participants searching for new depth, In & Out is a perfect place to begin or restart a Bible study journey.
2. Immediate application
In & Out studies are designed to help you read and understand a passage of Scripture—and see how it applies to your life, right now.
Because of the condensed format, In & Out takes you right to the heart of a passage, and it walks you through the process of beginning to live out what you learn in your everyday circumstances and relationships.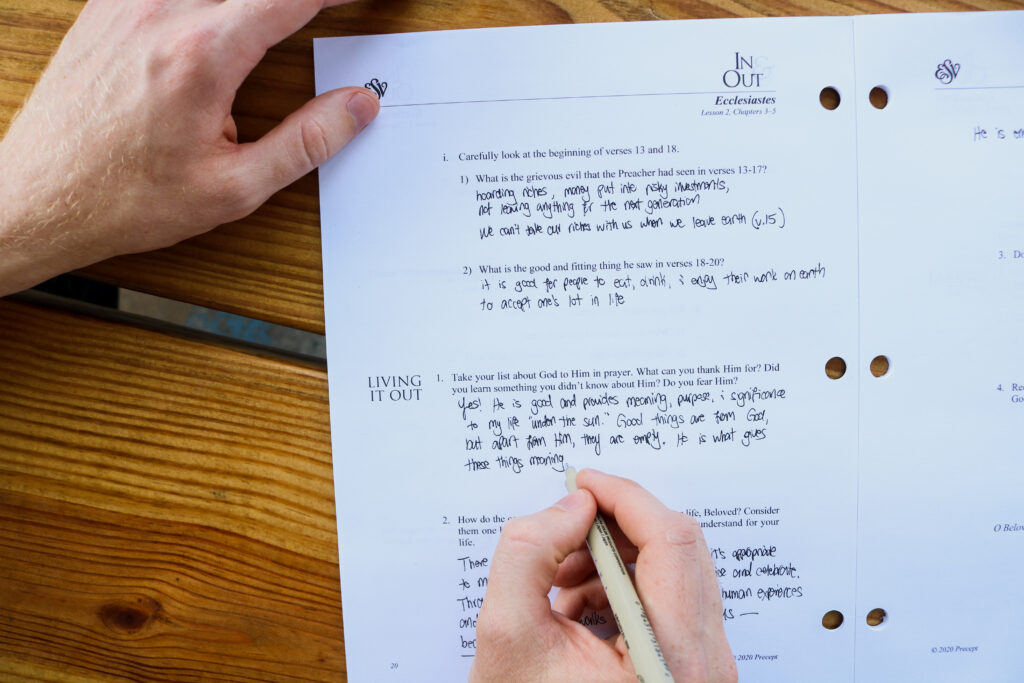 3. Streamlined homework
One of the founding ideas behind the In & Out series is simple: You don't have to wait for your schedule to slow down to be transformed by Scripture.
Following the same outline as the Precept Upon Precept® studies without the same length, In & Out studies streamline your study time without sacrificing depth. You'll still follow all steps of the Precept Bible Study Method, but because the cross-references and word studies are more condensed, you'll reduce the weekly study time by half.
4. Helpful extras
If you've spent any time with the Bible, you've probably realized how different the world of ancient Israel is from our 21st-century culture.
Understanding the context of Scripture plays a huge role in our understanding and application. That's why we've included detailed maps, charts, and observation worksheets in the In & Out series.
Whether you're exploring one of Paul's letters to the early church or the story of an Old Testament king, you'll have the support you need to understand Scripture deeper than ever before.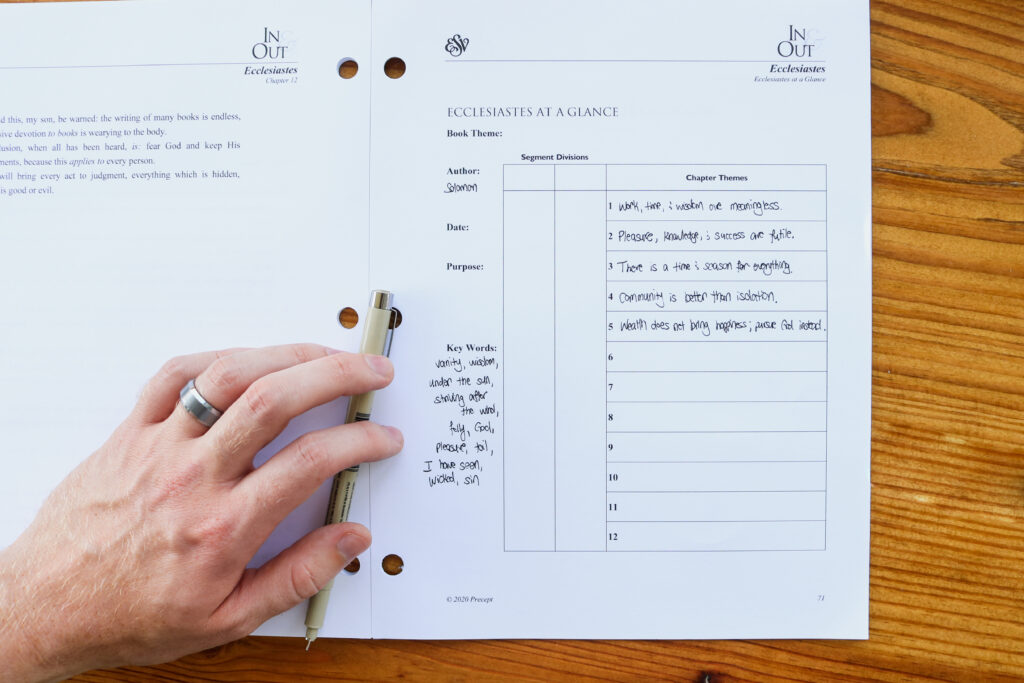 5. All of Scripture, in context
With In & Out, you can study (nearly!) the entire Bible—one verse at a time.
There's an In & Out study on almost every book of the Bible, which means you can dive into God's story at any chapter. From the epic stories of Genesis to the sweeping finale of Revelation, you can build a strong biblical foundation and study of every part of Scripture.
Whether you've been wanting to explore the Old Testament prophets or the Gospels, you'll find an In & Out study that meets you where you are—and helps you get more out of the Bible by understanding it in context, verse by verse and book by book.
Note: The Precept team recommends trying our new study on Job! It is such a timely exploration of God's sovereignty and our ultimate, eternal hope in Him—through everything.
6. Supplemental videos
Want to go even deeper with your group? Try watching one of the additional teaching videos at the end of your discussion!
Each In & Out study can be paired with teaching videos by Kay Arthur and other veteran Precept Leaders. These extra resources help you notice patterns, context, and additional details in Scripture, and they are designed to support your individual and group study so you can get the most out of your time in God's Word.
By reinforcing key concepts (and helping ensure group discussions stay on track!), the supplemental teaching videos help you and your group go even deeper into God's Word.
7. Established community
At Precept, we believe we should study God's Word for ourselves—but not by ourselves.
Across the country, people are gathering together to go deeper into the Bible through Precept Upon Precept® and In & Out studies—which means there are so many people to give you wisdom and feedback as you start leading.
Because In & Out studies pair with the Precept Upon Precept® series, you can easily shift to incorporating both in your group, giving people the option to study with the series that best fits their context. You don't have to start from scratch . . . in fact, you can start your In & Out story today.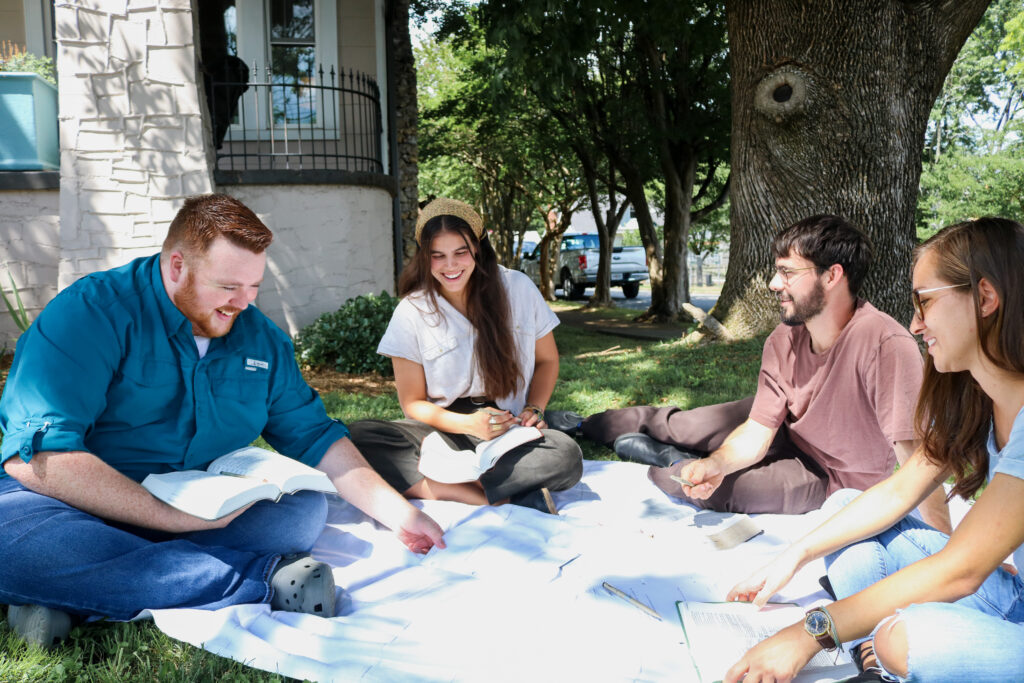 Ready to discover your next favorite study? Visit our shop today and browse our entire In & Out library to find the one that's right for you!