For believers across the globe, following Jesus comes with daily roadblocks.
Whether it's government repression or lack of access to Bibles and study materials, many Christians face an uphill battle as they live out their faith. However, these are the situations where God's Word often shines the brightest—and He is using Precept Leaders and resources in His work.
We wanted to share these two incredible reports from Africa to encourage you this month. Because of givers like you, people around the world can know God deeply and follow Him daily, despite any obstacle.
Seeing with New Eyes
For believers in one region of Upper Egypt, two big obstacles stand in the way of knowing God through His Word: Illiteracy and limited access to church community.
But despite these obstacles, God is working to reach His people with Scripture, and He is using Precept Leaders in His mission. This spring, Precept trainers partnered with local churches to host a region-wide, 8-week training. Spanning generations and communities, 230 people from 12 villages gathered to learn how to study the Bible and help others in their community do the same.
Starting with Jonah, the group soaked up the training, quickly grasping the Precept method and inviting their friends to join the class. Soon, they moved on to Ephesians, diving deep into the writings of Paul.
"The epistle of Ephesians [has shown] us our values and positions in Christ, which has not been as clear to us as it is now," the class reported. "By Christ's blood, we are all God's people—no matter our race, color, or even social status. We are no longer separate nations."
As a result of the training, 25 new study groups were started in churches across the region, with the goal of starting even more as the year progresses!
Nothing Will Stop Them
This February, 106 students from across Africa gathered for the second session of a Precept Training Institute. Representing ten countries, they spent three weeks studying Scripture and growing their leadership skills together.
But not every student was able to attend this session. Zinash, a student from Ethiopia, had a baby three days before the training started and was understandably unable to travel. However, she was so hungry for God's Word, she decided to join the institute virtually from her bedroom! Even while actively caring for a new baby, Zinash was an eager and encouraging participant in the session, and she can't wait to start a Bible study group as soon as she is able!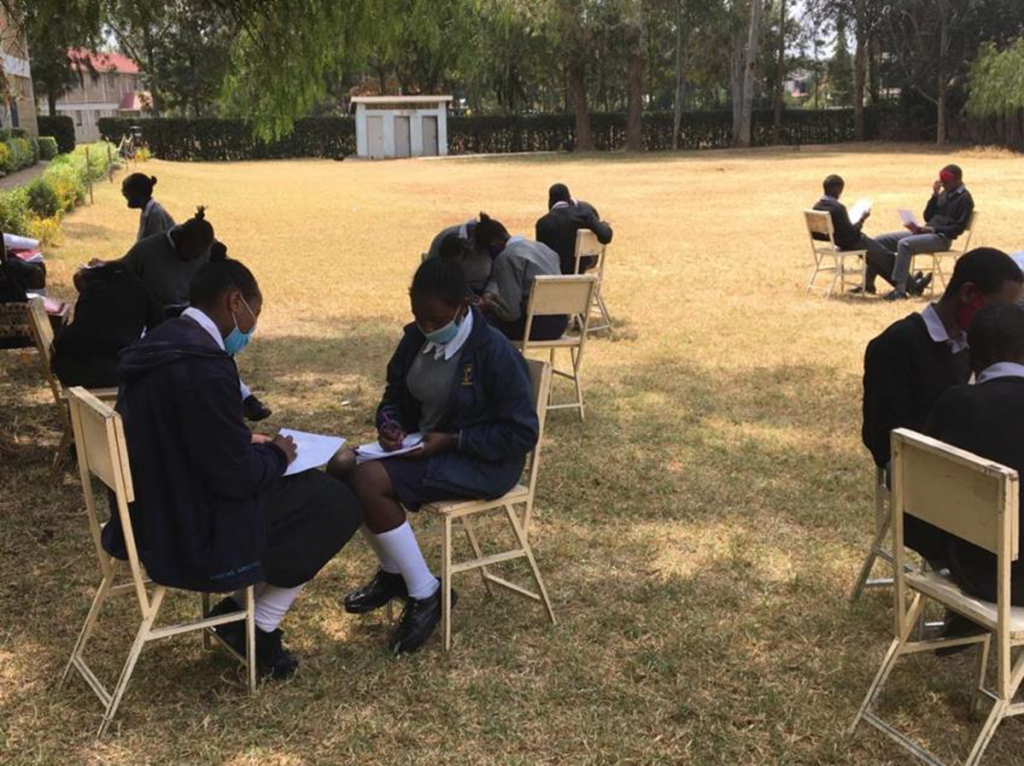 After each session of an institute, students are sent home with a big homework assignment: To start Bible study groups in their communities and make disciples. Unfortunately, because of the lingering presence of COVID-19, many weren't able to reach out to strangers like they had in the past. Instead, they started groups within their spheres of influence, and the Lord honored their work.
Sherry, a student from Kenya, has been leading studies with teenagers at a local boarding school in her town. She decided to stick with this same group for her latest assignment, but with a twist. This time, she intentionally asked the students with natural leadership skills to help lead the group.
Not only did this give the student leaders a boost of confidence and an opportunity to grow their skills, but Sherry also noticed a shift in the tone of the group. The teens felt so comfortable with each other they were able to go deeper than ever before, and some of the students have even started their own study groups in the school!
As a partner with Precept, you are the link connecting these believers with the resources, training, and community they need to know God deeper. Thank you for furthering His global, eternal mission!
This work is only possible through givers like you. Will you partner with us today?
Give Now
Though you have not seen him, you love him. Though you do not now see him, you believe in him and rejoice with joy that is inexpressible and filled with glory, obtaining the outcome of your faith, the salvation of your souls. - 1 Peter 1:8-9, ESV